Woman attacked by ex-partner convinced she was going to die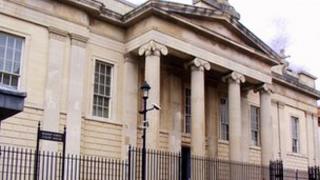 A woman whose ex-partner was jailed on Tuesday after brutally attacking her outside her home last year has said she was convinced she was going to die.
Her attacker, 30-year-old Darren McKeown, of Mullanary Road, Blackwatertown, County Armagh, was jailed for three years at Londonderry Crown Court.
He admitted repeatedly punching his ex-partner and falsely imprisoning her.
His victim, who cannot be named, said she feared for her life.
She told BBC Radio Foyle that she now wants to use her experience to help other victims of domestic violence.
She said: "He kicked his way into the house and I heard him running up the stairs.
"It was a complete fight to get out of the house. He tried to strangle me and punched me a few times in the face.
"I lived with him for nine years and I just knew from the look in his eyes that it might be my last day on earth.
"I thought maybe that this goes on behind closed doors in most houses and maybe I am making him like this", she added.
"I just don't believe he will ever walk away from me.
"If you are being abused you do not have to be afraid. The help is out there."
McKeown will spend 18 months in jail and 18 months on licence.