Man, 20, shot in the knee in Derry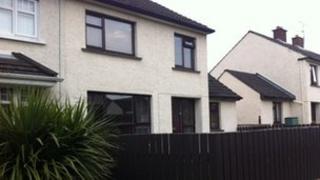 A 20-year-old man has been shot in the leg in Londonderry.
The attack happened in Osborne Street, in the Rosemount area of the city, at about 23:00 BST on Sunday.
Police have said that three men broke into a house and two of them ran upstairs and shot a man in his right knee.
He was taken by ambulance to Altnagelvin Hospital. His injuries are not life threatening.
During the attack, another man and a woman who were in the house at the time were held at gunpoint in a downstairs room by one of the gang.
'Barbaric'
SDLP Councillor Shauna Cusack said: "This is not only an attack on a young man but on a community who wish to leave this type of barbaric behaviour in the past.
"I can only condemn this attack and feel for the victim's family, especially his mother who was out celebrating Mothers day while her son was going through this terrifying ordeal.
"Regardless of what he is accused of doing , the law cannot be taken into the hands of unaccountable individuals."
Sinn Féin councillor Mickey Cooper said: "This is a very worrying development and follows a number of similar incidents in the city over recent weeks.
"I would urge anyone with information on this attack to contact the police."