UK City of Culture 2013: Derry Culture Company closes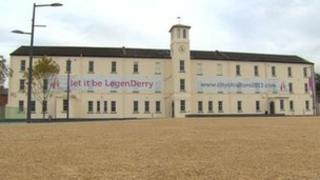 Londonderry's Culture Company, which had the job of marketing and delivering many of the high profile events during the 2013 UK City of Culture year, is to wind up.
It will close its doors on Monday.
The Culture Company was formed to manage the 2013 programme in partnership with Derry City Council and Ilex Urban Regeneration Company.
Its board took the decision to wind up three months early because of funding issues.
The company involved a team of 18 full-time staff and was led by chief executive Shona McCarthy.
They were based at Ebrington Square in Derry.
The Culture Company accused Derry City Council in October of failing to deliver on a £10m promise for the celebrations.
'Ambition and passion'
Three members of the board of the Culture Company resigned in October.
Derry hosted 140 events during 2013 including the Turner Prize, Music City, Radio 1's Big Weekend and The Return of Colmcille.
Derry was selected as the UK's first City of Culture in July 2010.
Culture Company chief executive Shona McCarthy said: "The motions are terribly mixed. We ate, slept and breathed city of culture."
Ms McCarthy called for a continuation of funding for legacy projects.
"It was a terribly short time frame but the ambition and passion was extraordinary. The city absolutely rose to the challenge.
"I'd be lying if I didn't say it is bitter sweet this morning.
"It's mind-boggling to me that the city wouldn't want to retain what happened in 2013.
"I can see a lot of missed opportunities here."
The Department of Culture, Arts and Leisure said it was "currently bidding for additional funding to take forward creative and cultural development in the North West".
In a message to Derry City Council, Ms McCarthy said: "Do not be so short-sighted about legacy. Legacy is built around people."