Magilligan publican John Gaile admits sexually abusing girl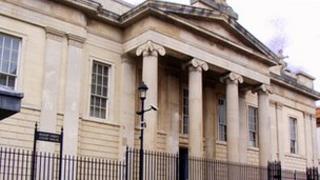 A man who owns a pub in Magilligan, County Londonderry, has pleaded guilty to two charges of sexually abusing a girl over a two-year period.
John Gaile, 51, from Ballymadigan Terrace in Castlerock, admitted abusing a 16-year-old girl starting in June 2011.
Gaile, who owns Cooley's bar in Magilligan, appeared at Londonderry Crown Court on Tuesday.
He has been placed on the sex offenders' register.
Two other related charges have been left on the court books.
David James Bowerman, 29, from Seacoast Road in Magilligan, admitted perverting the course of justice after he made a false statement to police officers involved in a criminal investigation against Gaile.
The length of time that Gaile will spend on the sex offenders' register will be determined when he and Bowerman are sentenced on 6 May.
Both men were released on continuing bail until that date.