Limavady stabbing: Man on attempted murder charge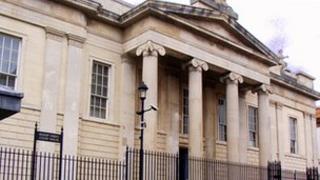 A man has appeared in court charged with attempted murder after a stabbing incident in Limavady, County Londonderry, on Wednesday morning.
Londonderry Magistrate's Court was told that two men were found covered in blood in a house in Coolesan Walk.
William Young, 28, of Glenmore Gardens, Limavady, has been charged with attempted murder and causing grievous bodily harm.
Patrick McDonald, 23, from Sperrin Road, Limavady, also appeared in court.
He has also been charged with aggravated burglary and causing grievous bodily harm.
A detective constable told the court that the defendants were alleged to have forced their way into a house at Coolesan Walk where the ex-girlfriend of the defendant, William Young, was staying with her current boyfriend.
'Covered in blood'
The officer referred to the incident as a "frenzied and pre-meditated attack".
The defendants allegedly kicked and punched the 20-year-old victim on the head in the kitchen of the house.
Mr Young is then alleged to have grabbed a kitchen knife and stabbed the victim on the head.
The court was told that the two defendants then left the house and went to the nearby home of the woman's parents.
Police were called to the house and the defendants, both of them covered in blood, were arrested, the court heard.
The police said they found the victim laying on the hallway floor, bleeding profusely from a serious head wound.
Bail applications were refused and both defendants were remanded in custody until 10 April.