Senior PSNI officer says teenagers could have died on Strabane golf course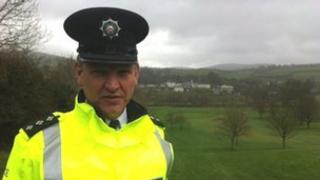 A senior police officer in Strabane has said someone could have died when up to 60 young people gathered for an outdoor St Patrick's Day party.
It is understood the event on a golf course in County Tyrone was organised on social media.
Three teenagers were taken to hospital and treated for the effects of alcohol - one was treated for hypothermia.
Ch Insp Andy Lemon said one of the teenagers was found lying unconscious just 10 ft from a river.
Another teenager was also found unconscious on the fairway.
Due to concerns that another young person was unaccounted for, officers began a sweep of the area and were assisted by civilian search teams.
A police helicopter and search dogs were also deployed, but later stood down.
'Dangerous'
"One of the young 15-year-old girls couldn't even speak," said Ch Insp Lemon.
"They were drinking cider, vodka and shots. They said they got random people to get drink for them.
"There were some people there that didn't take alcohol, but the majority were drinking.
"God forbid, someone could have died."
He said that young people and their parents needed to recognise the dangers of what they had been doing.
"The dangerous part of this is that these young people may not have been found," he said.
"They were not in a fit state to look after each other and were out of the way."
No arrests have been made.