Bernadette McGeary admits £270,000 theft in Spanish property scam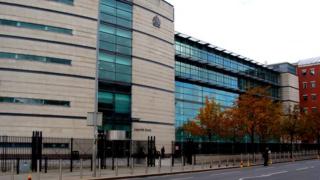 A County Tyrone woman at the centre of an international property scam has pleaded guilty to stealing about £270,000 from investors.
Bernadette McGeary of Carland Road, Dungannon, admitted nine charges of theft and deception relating to the purchase of holiday homes in Spain.
She had been due to stand trial on 27 charges, but prosecutors agreed to accept her pleas to nine new offences.
The 55-year-old will be sentenced next month.
Siblings cleared
Her brother and sister, who were also due to face trial in the same case, walked free from Belfast Crown Court after the judge directed the jury to find them not guilty.
Stephen Peter McGeary, of Drumglass Way, and Catherine Mooney of Edendork Road, both Dungannon, were acquitted on a total of 11 charges.
A jury had been sworn in on Wednesday for the siblings' trial and the court was told it was expected to last up to six weeks.
However, as the case was about to begin on Thursday morning, a prosecution barrister told the judge nine new charges had been added to the bill of indictment against her.
The original 27 charges Bernadette McGeary faced included obtaining a money transfer by deception, transferring criminal property, entering into an arrangement to acquire criminal property, obtaining property by deception, theft, using a false instrument with intent, fraud by false representation and removing criminal property.
The judge said: "In the view of the Public Prosecution Service (PPS) the nine new counts are acceptable and reflect the criminal responsibility of Bernadette McGeary.
"I would ask that she be re-arraigned on these new counts.''
Flanked by two prison officers in the dock, she pleaded guilty to the eight charges of theft and one of obtaining financial advantage by deception.
Medical report
The prosecution requested that the previous 27 charges she faced be "left on the books and not to be proceeded with".
The judge agreed to release her on continuing bail, ahead of sentencing on 11 April.
However, he warned McGeary "do not take that as an indication of how the court will deal with you".
Her defence barrister requested for a pre-sentence report and medical report to be prepared before his client returned to court.