Dr Eireann Kerr to contest police assault charges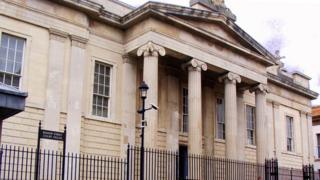 A doctor accused of attacking two police officers after a staff Christmas party in Londonderry is to contest the case against her, a court has heard.
Dr Eireann Kerr, from Marlborough Park South, Belfast, is charged with assaulting the officers at Strand Road police station on 13 December 2013.
The 30-year-old doctor works as an anaesthetist at Altnagelvin Hospital in Derry.
It is alleged she used a smart phone during the assault.
She is further charged with disorderly behaviour and resisting a police officer on the same date, but she denies all of the charges.
During a hearing at Londonderry Magistrates Court, Dr Kerr's defence solicitor said CCTV footage of the alleged assault was supposed to have been served on him by the Public Prosecution Service at the beginning of February.
However, he told the judge he had only received it from the PPS on Friday morning.
The defence solicitor said he wanted to view the footage to determine if both sides could agree some of the prosecution evidence in the case.
He added that six police officers have made statements about the alleged assaults and that further statements may be made by a police doctor and two further police officers.
The case was adjourned until 21 March, when a date is due to fixed for the contested hearing.