Eamon Cassidy sentence for pipe bomb increased by two years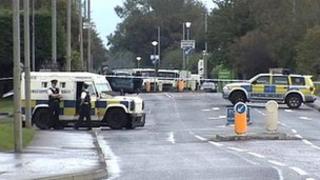 A man jailed over two separate bomb incidents in Londonderry has had his sentence increased by two years.
Court of Appeal judges ruled that Eamon Cassidy should now serve five years in prison and five on licence.
They imposed the new term after Northern Ireland's Director of Public Prosecutions argued that the original eight-year sentence was unduly lenient.
Barra McGrory QC said one of the bombs had been left at the "prestige target" of Derry Courthouse.
Cassidy, 51, of Glenfada Park in the city, pleaded guilty to two counts of possession of explosives with intent to endanger life.
He was in a car, along with two other men, stopped by police on the Buncrana Road in September 2011.
An improvised pipe bomb was discovered under the front seat.
Cassidy told detectives that he found the device while out for a walk and had been taking it to a priest as he did not want any children to be injured.
DNA taken from him was later matched to a sample recovered from a 50-kilo beer keg bomb found opposite the Bishop Street courthouse in March 2011.
As part of his challenge to the sentence imposed, Mr McGrory said: "It was set to go off at a prestige target... as far as terrorists are concerned."
He claimed Cassidy had been intimately involved in the construction of the device.
"This is someone who is deeply committed to this type of conduct," he said.
Lord Chief Justice Sir Declan Morgan, sitting with Lord Justice Girvan and Mr Justice Weir, held that the proper starting point in sentencing should have been 15 years.
"These two involvements by Mr Cassidy in serious terrorist crime indicate a commitment by him during this period," Sir Declan said.
Giving credit for the defendant's guilty plea and personal circumstances, along with the issue of double jeopardy, the court ruled that a 10-year sentence should be imposed.
Sir Declan confirmed it would be split evenly between prison and a period on licence.