Former Quinn property attacked for second night in a row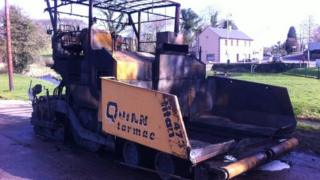 For the second consecutive night, property that once belonged to the bankrupt ex-billionaire Séan Quinn has been set alight in an arson attack.
A tarmac spreader was destroyed by fire in Donagh, County Fermanagh. The blaze, on Dernawilt Road, was reported at about 21:00 GMT on Thursday.
On Wednesday night, firefighters dealt with arson at Quinns Glass Factory on Ballyconnell Road, Derrylin.
Mr Quinn has repeatedly condemned the long campaign of attacks.
Before the County Fermanagh-born businessman went bankrupt, his family controlled a vast multi-billion pound business empire.
Their interests included insurance, shopping centres and hotels, as well as cement, glass and radiator manufacturing factories.
Mr Quinn lost control of his firms in 2011 as part of his legal battle with Anglo Irish Bank.
Quinns radiator, glass and cement manufacturing facilities have recently been renamed under the Aventas brand.
The latest arson attacks have come after Aventas announced plans to sell Quinn Rooftiles to Lagan Cement Group and the Quinn transport fleet to a Dutch company, CEVA Logistics.
A number of businesses associated with Lagan Group have also been targeted by arsonists who have destroyed hundreds of thousands of pounds of construction equipment.
Last week a group of local businessman revealed tentative plans to buy the former Quinn Group.
The police have appealed for information about Thursday night's attack.
They said the tarmac spreader was parked on Dernawilt Road at 16:00 GMT and they want to speak to anyone who saw anything suspicious in Donagh village after that time.