Londonderry is first UK city to win WorldHost status for tourism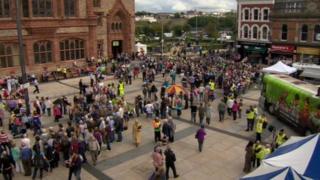 Londonderry has become the UK's first WorldHost city - a tourism accolade that recognises commitment to customer service and hospitality skills.
WorldHost is an internationally recognised customer service qualification and 4,000 people have completed the training in Derry.
WorldHost city status is awarded when 25% of all customer service sector businesses have trained at least half of their staff in the programme.
The training is funded by Stormont.
The programme is administered by the Department for Employment and Learning (DEL) and runs in partnership with the Northern Ireland Tourist Board (NITB).
Funding extended
Employment and Learning Minster Dr Stephen Farry said securing WorldHost city status was a "major accolade" and he is due to attend a ceremony in the Guildhall on Friday to celebrate Derry's achievement.
Those who took part in the training include hotel staff, shop workers and thousands of other employees who provide public services in Derry, including the police.
"The WorldHost customer service programme has made a considerable contribution to ensuring all the visitors to the city had a wonderful experience and encouraging them to return to experience the hospitality and welcome from the city and its people," Dr Farry said.
"WorldHost has proven to be extremely successful across Northern Ireland with my department's Skills Solutions Service having funded over 7,000 individuals to receive the training, with 4,000 of those based in Derry.
"Today I would like to take the opportunity to announce that my department will continue to fund WorldHost training for a further three years up to 2017."
'Dedication'
Enterprise, Trade and Investment Minister Arlene Foster said: "The increased levels of customer service engendered by the WorldHost programme have been crucial to enhancing the overall Northern Ireland visitor experience.
"The standards set played a vital part into the success of the UK City of Culture, and the north west will undoubtedly reap the benefits of repeat visits in 2014 and beyond.
"Londonderry's dedication and innovation in customer care has certainly raised the bar for the rest of Northern Ireland and I would encourage our other destinations to follow their example."