Magilligan farmers call for stronger coastal defences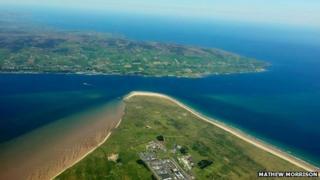 Farmers whose land is being eroded by the sea have called for stronger coastal defences.
Farmers who live along the coastal area in Magilligan, County Londonderry, said they have lost up to 300 acres of land in the past 30 years.
Thomas McCracken, a spokesperson for the farmers, said: "It has destroyed my livelihood."
"The earth is just exposed to the tide and when there's a storm the land just gets washed away," said Mr McCracken.
"We're not allowed to use boulders or anything because it's an area of special scientific interest. We can't put any protection down. It's awful but that's the law.
'Politicians need to do more'
"If we want to protect anything we have to give the NIEA six months notice. We have been going through the same issues year in year out and we have even lost sheep and cows.
"A lot of farmers have lost their livelihood. The tide is taking out three or four yards every month.
"My father erected fences around 50 years ago and they are long gone now. Our politicians need to do more.
"We have asked the questions but we have never received any answers or practical help."
A spokesperson for the Department of Environment said: "The Areas of Special Scientific Interest (ASSI) system extends along a substantial portion of the north coast of Northern Ireland, from the foreland at the mouth of Lough Foyle eastwards to Downhill Strand.
"Any person proposing to use boulders to protect land within an ASSI must first obtain written consent from NIEA who are required to assess and ensure that such works would not have an adverse impact on the special scientific for which the area was designated.
"Magilligan is one of the best examples of a sand dune system in Northern Ireland."