Ballykelly, County Londonderry: Alert an elaborate hoax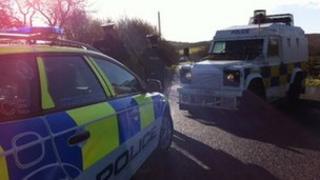 Army bomb experts have declared a security alert near Ballykelly, County Londonderry, an elaborate hoax.
The two suspicious objects found on the Carnamuff Road on Thursday afternoon have been taken away for examination.
A number of premises in the area were evacuated during the alert.
Limavady SDLP councillor Orla Beattie condemned those behind the alert as "reckless". She lives close to the area and said people were shocked by what had happened.
"This is a very quiet country area where people live in peace and get on with their lives," she said.
"It is extremely worrying that this type of unjustifiable action has come to the Carnamuff area again, after a hoax alert just down the road last year."
The police have appealed for information.