Pope appoints Auxiliary Bishop Donal McKeown as Bishop of Derry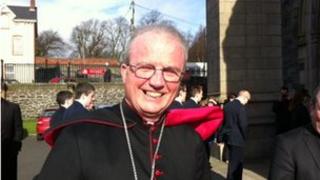 The Auxiliary Bishop of Down and Connor has been appointed by the Pope as the new Bishop of Derry.
Bishop-elect Donal McKeown, 63, has served as a priest for 37 years.
The diocese has been vacant since Dr Séamus Hegarty retired in November 2011 due to ill health.
Bishop-elect McKeown is a native of Randalstown, County Antrim, where he grew up as part of a large extended family.
He said: "I grew up not far from the River Bann and have passed through this historic city many times - but much of the area covered by the diocese of Derry is new to me.
'Delighted'
"So moving to the banks of the Foyle means leaving behind streets and families where I have felt at home and moving aside from the network of relations that have been such an integral part of my being a priest."
He added: "I come with the knowledge that many solid foundations have been laid in the Church of this diocese.
"Indeed this city has, for many decades, developed its own sense of independence and cultural pride, epitomised in the City of Culture celebrations last year.
"I look forward to working with people of faith and people of doubt within this wonderful and historic diocese, so that together we can generate hope for our young people."
Bishop-elect McKeown said he felt "energised" by the challenges that lie ahead.
Presbyterian Moderator Dr Rob Craig welcomed the appointment of Bishop Donal McKeown.
"I know he will be warmly welcomed just as I was 20 years ago and will find people keen to live together side by side respecting one another.
"I welcome him to the city and assure him of our prayers and good wishes for the days ahead."
Deputy First Minister Martin McGuinness said: "Bishop McKeown is well known for his progressive approach, particularly in the field of education.
"He is recognised as a communicator, educator and advocate for social justice.
"I welcome him to the Derry Diocese and look forward to working with him on issues of common interest."