Arlene Arkinson inquest: Robert Howard in legal aid challenge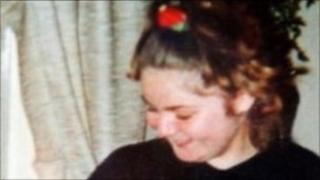 A convicted child killer is to bring a High Court challenge over the decision to refuse him additional legal aid for an inquest into a schoolgirl's death.
Robert Howard, 69, is due to give evidence from jail at the long-delayed inquest into Castlederg teenager Arlene Arkinson's disappearance in 1994.
His lawyers argue that funding provided by Stormont's Department of Justice to cover his legal costs is insufficient.
Howard, who once lived near her, was cleared of her murder in 2005.
The jury was unaware that, by then, he was already serving a life sentence in an English prison for raping and killing a girl from south London.
Fourteen-year-old Hanna Williams' body was found at a cement works in Northfleet, Kent, in March 2002.
'Problems'
Howard is seen as a crucial witness in the inquest into the disappearance of 15-year-old Arlene, who went missing in August 1994 after a night out at a disco in Bundoran, County Donegal.
Her body has never been found.
Howard's barrister told the coroner's court in Belfast that a judicial review would be launched and said that before an inquest could be heard, his legal team needed more time to examine documents and consider issues to be raised.
"I don't wish it to be said at any future stage that this should have been done at an earlier stage," he said.
"If those developments occur close to the start of the inquest, it is because of the position that we have been put in by the minister."
He added: "We foresee problems."
Publicly-funded legal aid, such as that offered to eligible participants in criminal and civil cases, is not automatically given to those appearing in inquests, and witnesses have to seek a grant to cover their costs.
In December, Stormont Justice Minister David Ford granted legal aid for a solicitor and junior barrister to represent Howard.
His lawyer said the forthcoming High Court challenge would focus on the failure to allocate Howard funding for a senior counsel, unlike the Arkinson family.
The inquest was scheduled to begin in Omagh courthouse in County Tyrone on 28 April and is due to last just over two months.
Senior coroner John Leckey has granted a two-week deferment of the start date.
About 45 files of documents are connected with the disappearance of Arlene and will have to be read by lawyers.
A barrister representing the Arkinson family agreed to the change in the start date. He said a judicial review should be dealt with as quickly as possible.