Oakgrove Integrated College: CS spray officer cleared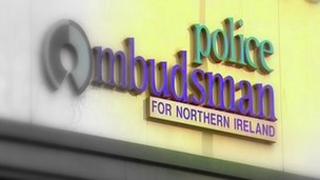 A police officer who used CS spray on a 14-year-old schoolboy last month has been cleared of any wrong-doing.
The incident happened at Oakgrove Integrated College in the Waterside, Londonderry, on 7 January.
Police received an emergency call asking for help after the boy, who was a pupil, smashed a window with his fist and was aggressive towards staff.
The officer found the boy in the main hall of the school. He was bleeding heavily and was very angry.
He was warned that if he did not calm down, CS spray would have to be used.
Teachers told investigators that he continued to be aggressive and the officer had no choice but to use the spray.
In his report, Ombudsman Dr Michael Maguire said the boy needed medical attention and attempts to pacify him seemed to have failed.
"This young man had already hurt himself, was bleeding quite badly and needed medical attention. He had also threatened the officer and others and efforts to pacify him seemed to have failed," Dr Maguire's report stated.
"The officer said he feared for the boy's safety and the safety of others and had no alternative. No-one who saw what happened, including the boy himself, is questioning his judgement."