Strabane police attack: SDLP's Patsy Kelly condemns incident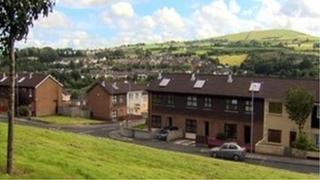 An SDLP councillor has condemned an attack on a number of police cars in Strabane.
It happened on Monday evening as officers went to a house in the town's Ballycolman estate where there had been a sudden death.
Stones were thrown at a number of the police cars but there were no reports of any injuries.
SDLP councillor Patsy Kelly said that the attack was disgraceful and had made a difficult situation more traumatic.
He said: "I firstly want to express my condolences to those who are grieving at the loss of a close family member.
"This was a senseless attack on police officers while they try to deal with a very difficult and emotional situation while supporting a family in grief.
'Sensitive matter'
"I understand that police had initially chosen to use standard cars while reaching the scene in the Ballycolman estate in an attempt to show sensitivity," he added.
"Upon coming under attack from youths throwing stones, the cars had to withdraw to be replaced by more dominating land rovers.
"As police try to use land rovers sparingly, this kind of pointless activity makes it more difficult and will be condemned by everyone in this caring community."
Writing on the Strabane PSNI Facebook page, a police officer said their cars were attacked while attempting to deal with what was "a sensitive matter".
"These young people were well aware of the issue being dealt with but refused to desist from their behaviour."
The officer added: "Whilst we are trying to reduce the use of the Land Rover in dealing with calls, and I appreciate they can be quite noisy when driving around estates, it is behaviour like this that forces the police to use these heavy vehicles as they are less easily damaged."