Strabane to hold first ever LGBT festival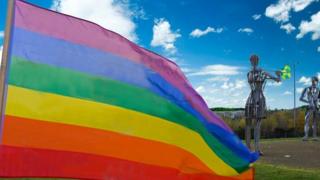 Strabane, County Tyrone, will hold its first ever Lesbian, Gay, Bisexual and Transgender (LGBT) festival at the weekend.
The Strabane LGBT group hopes it will become an annual event with the support of Strabane District Council.
The festival will officially open on Friday with a locally written LGBT themed play by Jennifer Patton.
Project manager of the event, Gina Gallagher, said: "This will increase the visibility of the LGBT community.
"One of the highlights of the festival is the So Here We Are play, which is based on true experiences of the local community.
"We always wanted to hold an LGBT festival in Strabane and this is a very exciting time for us."