Samuel Devenney death: documents to stay secret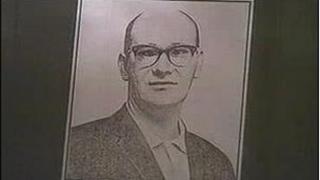 The family of a Londonderry man, who died after he was attacked by police, have said they are "disgusted" that files about his death will be kept secret for another eight years.
Mr Devenney died three months after he and his family were assaulted by RUC officers in 1969.
The family have been trying to see the documents about his death.
Mr Devenney is regarded by many as one of the first victims of the Troubles.
The Metropolitan Police have turned down a Freedom of Information request, according to the Devenney family and the Pat Finucane Centre.
A Metropolitan Police Chief Superintendent, Kenneth Drury, was called in to conduct an independent inquiry, in 1970.
Only 12 copies of his report were delivered at the time - to the then RUC Chief Constable Sir Arthur Young, and government figures.
Sustained injuries
The Drury report was able to establish that the attack on the Devenney family had been carried out by RUC officers but was unable to identify those officers, according to a Northern Ireland Police Ombudsman's investigation in 2001.
Samuel's family have always maintained he died as a direct result of the injuries he sustained at the hands of the RUC officers in their William Street home.
Harry Devenney, Samuel's son who was in the house at the time of the attack, said it was a "shocking" night for the family.
"My father was beaten very badly about the head, chest and face. He was choking when I went into the living room and there was blood everywhere. I had to pull teeth from his mouth.
"I had no time to think at the time. I couldn't believe it was happening.
"It's a disgrace that the documents are being kept secret. It's in the public interest. We are disgusted.
"We would like to see the full report."
The Metropolitan Police said in a statement: "The Freedom of Information request was refused for a number of reasons which were clearly explained to the applicant in our response."