Londonderry man Patrick Farren jailed for assaulting pregnant nurses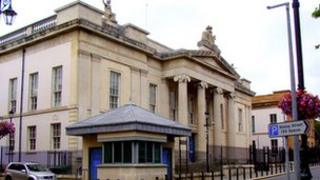 A man who assaulted two pregnant nurses in the accident and emergency department (A&E) at Londonderry's Altnagelvin Hospital has been jailed.
Patrick Farren, 51, of Stoneburn Place in Derry, admitted a series of assaults and criminal damage that occurred in the hospital on 31 January.
Police were called to A&E because of a disturbance between two patients, one of whom was Farren.
He was jailed for five months at the city's magistrates' court.
When police arrived at the hospital at about 04:30 GMT, staff informed them that Farren had arrived at 03:00 GMT in an agitated state.
He started shouting and swearing at staff and then tried to light a cigarette.
One staff nurse, who was seven months pregnant, told him he could not smoke in the hospital and he pushed past her and pushed the other pregnant nurse.
The court was also told that Farren screamed in their faces.
A man who attempted to calm Farren down received injuries.
'Appalling incident'
When police saw Farren he was lying on the floor banging his head off the ground and he kicked a hole in a plasterboard wall.
A defence solicitor said his client had a significant record with more than 160 previous convictions.
Deputy District Judge Anne Marshall said Farren had 19 assaults on police and 88 riot or disorderly charges.
He had only just been released from prison when he was involved in the "appalling incident", the judge told the court.
She said that while both nurses were not injured, they were badly shaken.
Farren was also fined £200 for smoking in the hospital.