Londonderry attacks: 'disgraceful' says Martin McGuinness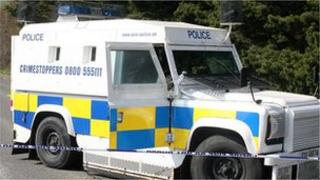 Deputy First Minister Martin McGuinness has described recent disturbances, involving 10-year-old children in Londonderry, as "disgraceful".
Mr McGuinness said in a tweet that parental control was "essential".
Petrol bombs, paint bombs and bricks were thrown towards the Fountain estate on Sunday and Monday night.
Two youths, aged 13 and 14, have been arrested on suspicion of riotous behaviour in the area on Sunday.
Ch Insp Jon Burrows said social services had been alerted by the police.
"There was disorder on Sunday and Monday night involving youths between the ages of 10 and 14," Mr Burrows said.
"We had additional resourcing on Sunday anyway because of the Bloody Sunday parade and we have additional police keeping an eye on the area the rest of the week.
"A formal investigation is under way so we are looking for people.
"I want to put a message out to parents - know where your children are or their lives will be ruined. I've seen CCTV footage and it's clear to me that the people involved were children, including 10-year-olds."
Police came under attack while investigating reports of petrol bombs being thrown towards the estate on Monday night.
Missiles were thrown at police vehicles and bins were set alight.
'Living in fear'
Ulster Unionist MLA Ross Hussey said he wanted to see an increase in police patrols in the area.
Mr Hussey, who is also a Policing Board member, said people "feel under siege".
"I will be raising this issue at the next PSNI (Police Service of Northern Ireland) Policing Board meeting," he said.
"I will also be asking the Justice Minister David Ford if he has reassessed his view that the security gates on the walls around the Fountain should be removed.
"Any idiot that throws a petrol bomb is prepared to take someone's life. It's as simple as that. Somebody may end up hurt or dead.
"Whoever is attacking the Fountain, it's an organised grouping within republicanism. This is a society living in fear.
"The deputy first minister needs to step in here too."
Mr Hussey said he was also aware of concerns about security cameras.
"Having visited the area and spoken to local residents, I am fully aware of their concerns regarding the security cameras in the Bishop Street and Nailors Row area, and what use if any, these cameras serve," he said.
"They seem to provide no deterrent whatsoever to the ongoing attacks on the Fountain.
"More police are needed. I know you can't have a policeman on the streets 24 hours a day, but at the same time as much security as possible should be pumped into the Fountain to reassure people."