Derry walls graffiti: Two men charged with criminal damage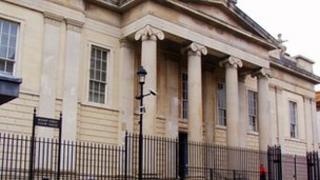 Two men, who were arrested on Saturday night for allegedly painting political graffiti on Derry's walls, have appeared in court.
Gary Donnelly, 43, of Iniscarn Road in Derry and 55-year-old Terrence Porter, from Carnhill, deny causing criminal damage to the walls.
A police officer told Londonderry Magistrates Court that the paint had caused considerable damage to the walls.
The defendants were released on bail.
Opposing bail, a police officer told district judge Barney McElholm that police received a call on Saturday night informing them that a group of people were painting the walls.
He said the damage cost "thousands of pounds to repair".
He said two other suspects are yet to be interviewed.
Offensive
Asked by Mr McElholm exactly what happened, the officer said Mr Donnelly was seen both painting and instructing other men to paint on the walls, and he said Mr Porter was "part of a joint enterprise".
The officer said the words "End internment now" and the letters "IRP" were painted on the walls and he said, "it was done to coincide with yesterday's (Sunday) annual Bloody Sunday march".
A solicitor for both defendants said the matter would be contested.
He said all sorts of issues would have to be dealt with including the ownership of the walls.
"Many tourists come to the city to view the walls and murals and to view graffiti which is not offensive to them," said the solicitor.
Asked by the district judge what the letters "IRP" represented, a solicitor said they stood for "Irish Republican Prisoners" but the solicitor added that the graffiti writers were interrupted before they could add the letter "w" which stood for "welfare".
Mr McElholm said: "Anyone convicted of causing this type of damage to historic structures should be made to do some civilised community service such as scrubbing it off with a toothbrush rather than using specialist cleaners at a considerable expense.
"There are a lot of traditions going back hundreds of years and we could do without most of them. Also, internment ended a long time ago."
Both men were released on their own bail of £1,000 and put on curfew between the hours of 20:00 GMT and 08:00 GMT.
They were also ordered not to associate with each other until their next court appearance on 6 March and not to contact any civilian witnesses.
When the police officer asked for the two defendants to be electronically tagged, Mr McElholm refused, saying: "I am not going to give them the opportunity of making a political issue out of this, so I am not going to tag them."