Derry Ebrington site plans 'could create 2,400 jobs'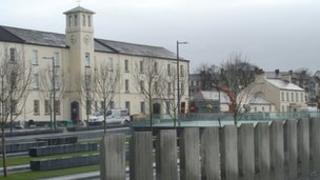 Proposals to develop the Ebrington site in Londonderry aim to provide about 2,400 permanent jobs, according to urban regeneration company Ilex.
The proposals went on display on Tuesday as part of a public consultation.
The public have said they would like a space for a cinema, a concert space and cafes.
The site in the Waterside area of the city was one of the main spaces used during the UK City of Culture year.
Andy Patterson, a project manager at Ilex, said: "This plan could generate millions. It is estimated that the draft development framework for Ebrington would support 2,400 permanent jobs.
"I'm confident that these jobs can be created if the whole thing goes forward."
He said the public consultation would enable people to see "what drafts we have and to suggest what they would like at the Ebrington site".
"It is dependent on quite a lot of initial public sector investment to kick-start initial developments, and to enable private sector investment in the future," he said.
"All the government departments and Invest NI will need to chip in and help with encouraging foreign direct investment in the site."
'Vibrant place'
Ebrington Square hosted BBC Radio 1's Big Weekend, the fleadh and the Turner Prize 2013.
Some members of the public said they would like to see it used as a "useful space for artists".
Ian Barr, chief executive at Waterside Theatre, said: "What goes in to Ebrington will be key in terms of Derry going forward.
"Student accommodation would be brilliant for me as a venue manager."
Artist and sculpture Maurice Harron said: "I'm very pleased at what is being produced here.
"83% of the plan is designated to cultural development. This is a unique area. We can make a very vibrant place here.
"The centre-piece is the international gallery and we want that to be valued and kept. This plan is exciting for the city."
The public consultation runs until mid-March and the final development framework plan will be submitted at the end of March.
Business applications will then be put in for funding.