Several hundred people attend Simon Chase funeral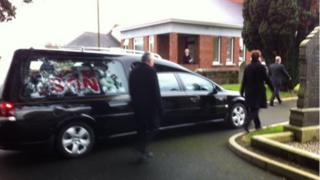 Several hundred mourners have attended the funeral in Limavady, County Londonderry, of Simon Chase who died in a suicide bombing in Afghanistan.
He had been working in Afghanistan for the EU police mission and was among 21 people killed in a restaurant attack in Kabul.
Mr Chase was originally from Chester but had been living in Limavady with his partner and two sons.
A number of businesses closed their doors in the town as a mark of respect.
Family and friends wore blue ribbons with Mr Chase's nickname "Si" printed on them.
The union flag was draped over Mr Chase's coffin and "daddy" and "son" floral tributes were carried from Mr Chase's home to the Christ Church.
The flag at the Royal British Legion Limavady branch was also lowered to half mast.
Mr Chase died when a suicide attacker detonated his explosives outside the gate of a heavily fortified restaurant before two gunmen entered the premises and opened fire on people inside.
'Big gentleman'
Rob Costello, a friend of Simon's for 17 years, said "he was a big gentleman".
"Everyone just feels for the family. I was totally gutted when I heard the news about Simon. I loved him to bits," he added.
"I found out over the internet and it was heart breaking. He is known all over and everyone is just numb to it. I used to work with Simon on the doors and he will be missed by everyone."
Rev Jason Kernohan paid tribute to Mr Chase throughout the ceremony.
"It's not very often that the town comes to standstill for the funeral of any individual but today we have witnessed an outpouring of respect for Si, as he was affectionately known.
"We come here today to pay tribute to an adopted son of Limavady. Simon made a great impact on this community and he will be greatly missed by family and friends alike. Our thoughts are with Norma and his sons.
"Simon's death has left such a feeling of shock and bewilderment. More than that, it has left a massive gap in the lives of Norma and the boys."
DUP councillor Alan Robinson, who has kept in touch with Mr Chase's family, said hundreds of people were waiting for the cortege on Saturday evening.
"This is a very sad day but a day where the family will take great comfort in the turn out," said Mr Robinson.
"Simon was very well regarded and that was reflected by the many many people that turned out."