Donegal puppies: Neglected dogs rescued from house in Lifford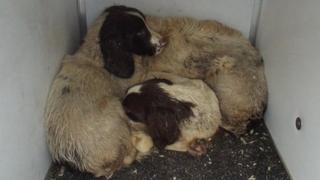 Almost 30 puppies have been found in a neglected state at a house in the Republic of Ireland, an animal charity has said.
Seventeen springer spaniels were found in Lifford by the Irish Society for the Prevention of Cruelty to Animals in a follow-up inspection, a week after 11 dogs were handed in by their owner.
The man had contacted Donegal Pet Rescue after he became ill.
Rescue coordinator Ryan McCauley said the state the dogs were found in was "heartbreaking".
"They were in an absolutely terrible condition - I'd never seen anything like it," he said.
"The pups just look for a corner to put their head in - they didn't seem to know what human contact was."
Five of the dogs are being cared for in Londonderry, at the Rainbow Rehoming Centre.
Sinead Millar of the centre said the dogs "must have been living in their own filth for a while".
"They've never had human contact and they're petrified of people, although they're starting to come around," she said.
The ISPCA said it would not be taking further action against the owner because of his ill health.
"We feel the owner did show responsibility and must be given credit for the fact that he sought help at the earliest opportunity," said the charity's Kevin McGinley.
Mr McGinley said the man now has three dogs that he is able to care for, but the ISPCA would carry out regular inspections "just to make sure standards are being kept up".