City of Derry airport boss in Ryanair comment apology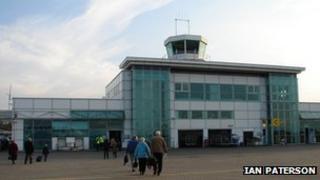 The director of City of Derry Airport has said he incorrectly blamed Irish airline Ryanair for bumpy landings.
Damien Tierney had made the remark during a meeting with Strabane District Council and a committee set up to oversee its merger with Derry City Council.
However, he now says he "erroneously" suggested that pilots were the cause.
Ryanair said it would not be "commenting upon, or engaging in, rumour or speculation".
At the Statutory Transition Committee meeting, Mr Tierney said that rather than the airport being responsible for bumpy landings, "it could in fact be down to Ryanair".
"It is an issue we have raised with Ryanair and it seems to be specific to their pilots," said Mr Tierney.
Apologise
Since that meeting Mr Tierney has issued a statement saying: "At a meeting in Strabane on 15 January, I was asked if the runway length at City of Derry Airport was the cause of bumpy landings.
"I advised that this was not the case but went on to erroneously suggest that the pilots of our main carrier, Ryanair, may have been the cause. This is not the case.
"All Ryanair landings at City of Derry Airport are normal and fall within normal safety parameters.
"I apologise for any misunderstanding that my original statement may have caused."