Philippa Reynolds death: Two men jailed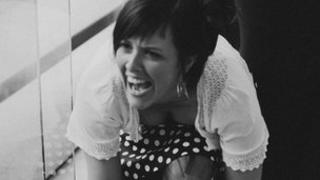 Two men have been jailed over the death of a police officer who died when a stolen car crashed into a police vehicle in Londonderry.
Constable Philippa Reynolds, 27, was a passenger in the police car on 9 February 2013.
Shane Christopher Frane, 26, who was driving the stolen car, will serve at least six years for manslaughter.
Conor Clarence, 24, a passenger in the stolen car, will serve 21 months in prison in relation to other offences.
He will serve a further 21 months on licence.
Frane was also disqualified from driving for 10 years.
Frane, who is originally from Limerick and with an address at the Simon Community hostel, Derry, pleaded guilty to eight offences including the manslaughter of Constable Reynolds, causing her death by driving without a licence or insurance, driving when unfit through drink or drugs, and failing to remain at the scene and report an accident.
Changed clothes
Clarence, whose address was also given as the Simon Community hostel, pleaded guilty to theft of a vehicle and allowing himself to be carried in a stolen vehicle that was involved in a fatal crash.
The crash happened in the Waterside area of Derry.
Constable Reynolds was the back seat passenger in an unmarked police car that was struck by a stolen 4x4 vehicle that had been travelling up to 80mph.
The court was told that Frane and Clarence spent the afternoon of 8 February 2013 drinking and taking drugs.
They broke into a house in the early hours of the morning, took the keys of a Toyota Land Cruiser and drove it away.
CCTV camera evidence showed Frane driving the car through red traffic lights and hitting an unmarked police car.
The two officers in the front of the car were injured.
Frane and Clarence were seen getting out of the car and running away.
It appeared that they changed their clothes and then walked back past the scene.
They were arrested later that morning.
Clarence admitted during interviews with the police that he was a passenger in the vehicle.
'Likelihood of reoffending'
He said he had asked Frane to slow down as he was becoming uncomfortable at the speed of the vehicle.
Frane was interviewed on eight occasions on 9 and 10 February but asked to be re-interviewed three weeks later, indicating that he would make full admissions after consulting with his usual solicitor.
Posing an indeterminate sentence, with parole not considered until Frane has served at least six years in prison, Judge Phillip Babington referred to Frane's extensive criminal record in both Northern Ireland and the Republic of Ireland.
Although only living in Northern Ireland since 2009, he has 12 convictions for attempting to take motor vehicles, grievous bodily harm with intent and making threats to kill.
Frane has 77 convictions in the Republic of Ireland including 11 motoring offences.
The pre-sentence report assessed Frane as presenting a "high likelihood of reoffending" and at a recent risk management meeting it was considered that he "continues to present a significant risk of serious harm".
Mr Babington said that after considering the information presented to the court he was "satisfied that Frane passed the dangerousness threshold.
"In these circumstances the court then has to consider if an extended custodial sentence would be adequate for the purpose of protecting the public."
He added that it would "not be possible to forecast the appropriate length of the extended period because of Frane's previous offending and his attitude to the previous sentences that have been imposed".