Derry North West One plan 'could create 500 jobs'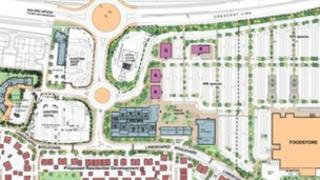 Plans for Crescent Link in Londonderry could create more than 500 jobs, according to developers.
The £45m 'North West One' development, including housing, a supermarket and a cinema, has been put forward by KPMG, the administrators for GSB Guernsey.
Revised plans were unveiled to the public on Thursday night.
Former planning minister Alex Attwood rejected the original proposal in 2012. It has since been amended.
The planned retail development has been reduced in size from about 80,000 sq ft to 50,000 sq ft, while it would no longer feature a three-storey office block and a healthcare unit.
'Impressive'
"We hope to get the application lodged before the end of February," said Alan Mitchell from the developer.
"It will be a genuine mixed use scheme with a food store, a cinema, housing, restaurants and family friendly areas like crèches and coffee shops.
"We have been speaking to well-known brands that are not yet represented in Derry.
"We hope to create around 250 construction jobs over the two-year construction period.
"Once the scheme goes fully operational we'd expect around 510 jobs to be created."
The Kilfennan roundabout and surrounding roads will be assessed by KPMG and the Department of Regional Development.
DUP councillor Joe Millar, who lives in the area, said: "This has been a derelict site for some time and this is very much needed.
"These plans are at the early stages but it's very impressive so far."