Western Health Trust 'facing an £8m deficit'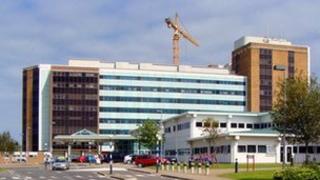 The Western Health and Social Care Trust has predicted it will have an £8m deficit for the current financial year.
The figure was revealed at the monthly meeting of the trust board on 9 January. The trust has an annual budget of more than £550m.
The chief executive of the trust has said that patient care will not suffer because of the shortfall.
Elaine Way said: "This is an £8m deficit at the end of March 2014 within the context of our overall budget."
She added: "The deficit has arisen because the trust is determined to do all it can to provide high quality services and protect the front line."
'Challenging financial year'
An increase in staffing costs, mainly employees who work through recruitment agencies, is said to be the main cause of overspend costs.
Mrs Way added: "Almost £5m of our overspend at the moment is money that we spend paying for medical locums.
"We have to use locums if we have a vacancy or someone is on sick leave and most locums cost about twice the amount of money we would pay for an NHS consultant."
Mrs Way said that the trust faced its most challenging financial year ever but added that there will be no compulsory redundancies within the organisation.
She said: "80% of our money goes on our staff and it is important that staff here know that we do not have the right to make people redundant.
"All we can do in terms of number of jobs is to wait for natural turnover or for people to say they would like to retire early."