Garda Representative Association: 'Border crime rise due to police shortage'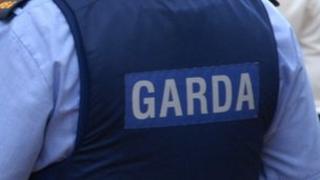 A "critical" shortage of Irish police has led to an increase in crime along County Donegal's border with Northern Ireland, rank and file officers have claimed.
The Garda Representative Association (GRA) has said police officers in Donegal are "operating on fumes" due to a lack of staff and resources.
GRA representative Marie McLaughlin said the result was a rise in robberies and burglaries along the border.
Gardaí are recruiting 300 new officers.
However, Ms McLaughlin told the Donegal News that the recruitment drive was a "mere drop in the ocean" to what was required, because the Irish police force had come under "serious pressure" in recent years.
"With austerity, redundancies and early retirements, the force has been struggling from one incident to another to continue the level of service," she told the paper.
"Over the last number of years the oxygen has been strangled from the organisation. We've been operating from a petrol tank on fumes,"
"The force is critically under-staffed in Donegal, and nationwide. There is simply not enough manpower in the Donegal Division and we see the result with increased robberies and burglaries along the border," Ms McLaughlin added.
The BBC has asked Irish police to respond to the claims made by the GRA.
The GRA is the professional body that represents rank and file officers and lobbies for improvements in police pay, welfare and conditions of employment.