Free service to cut First Communion clothing costs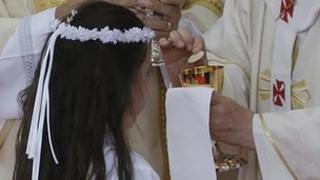 A free service has been set up in Londonderry to help Catholic families who are struggling to pay for their children's First Communion clothing.
First Communion is one of the seven sacraments of the Catholic faith and is usually celebrated when children are between the ages of seven and eight.
Community volunteers in Rosemount have opened a lending shop, where people can borrow donated outfits.
They said it was because some families were getting into debt to buy clothing.
'Distressed'
Eileen Kivlehan, chairperson of Rosemount Resource Centre, said that last year she saw some mothers reduced to tears because they felt under pressure to pay for expensive outfits.
"They were in an awful state. Some of them were actually crying and distressed because they couldn't afford to dress their child the same as everybody else," Ms Kivlehan said.
"That is very hurtful for a child - because children can be cruel and say things."
She said she had spoken to one woman who had spent up to £1,500 for her daughter's First Communion, having paid for a dress, veil and beauty treatments, including fake tan and hair dressing.
"Pride comes before a fall," Ms Kivlehan told BBC Radio Foyle. "If you haven't got the money and you have three or four more children and you go into debt, you know that for months on end that is going to affect the rest of your kids.
"They are going to get less, you are not going to be able to buy other important things," she added.
"After all, the Communion dress is only for a couple of hours so why should you be paying for it for 10 or 12 months?"
Recycle
Rosemount Resource Centre is suggesting that those who use the lending service return the outfits in good condition and if possible donate "a pound or two" towards the cost of dry cleaning.
A trial run of the First Communion shop took place last year, providing outfits to more than 30 families, who were allowed to keep the clothes.
The outfits were donated after an appeal, with one woman sending a box of Communion dresses from the United States.
This year, Ms Kivlehan said they have decided to lend and recycle the outfits, in order to help more families.
She said they were especially in need of donated outfits for boys.
She told the Derry Journal newspaper: "We think there must be so many people out there who have dresses or suits just lying in wardrobes which could be put to good use.
"The styles don't change over the years so even if it is a few years old it could help someone else."