Michael Mongan jailed for Magherafelt family attack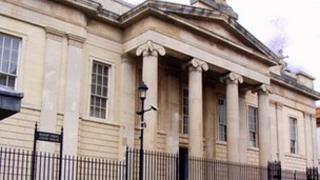 A man who attacked a 70-year-old grandmother, her son and grandson with an iron bar and pistol butt in their home in County Londonderry has been jailed for 14 years.
Michael Mongan, 23, from White Rise in Dunmurry, County Antrim, was convicted last year of assaulting Theresa Convery, her grandson Philip Convery and her son Martin Convery.
Martin Convery is a bank manager.
The victims were assaulted in their home at Mayogall Road, Magherafelt.
A jury also found Mongan guilty, by 10 to 2 majority verdicts, of attempting to steal £10,000 and with driving while disqualified and without insurance.
All the incidents occurred on 5 June, 2012.
Mongan was one of two men who burst into the family home armed with a gun and an iron bar shouting "give us the money".
He threatened to take Theresa Convery with him before hitting her on the hips, arms and legs with an iron bar.
'No mercy was shown'
Philip, aged 16, attempted to come to his grandmother's rescue but Mongan struck the teenager several times on the body and head with the iron bar.
Philip, who had been revising for his GCSE exams at the time of the attack, sustained a fractured skull and had to have emergency surgery in the Royal Victoria Hospital in Belfast to remove a large blood clot from the surface of his brain.
He remained in hospital for a further 11 days.
His uncle Martin, aged 45, also tried to intervene but was hit both with the iron bar and with a firearm, sustaining bruising to his arms, back and legs.
He then escaped and managed to flag down a passing motorist who alerted the police.
Mongan was picked out by Theresa and Philip Convery at an identification procedure following his arrest.
At the time he had 76 previous criminal convictions.
A victim impact report in relation to Theresa Convery stated at the time she had to use a rotator to get about her family home of 50 years.
She has been left with scars on her left leg and anxiety issues.
A similar report in relation to Philip stated at the time he was performing well at school but he has now fallen behind his peers.
He also played Gaelic games but has since been advised not to participate by his medical advisors.
The court was told that he has developed post-traumatic stress disorder. He is receiving counselling and will have to receive further counselling in the future.
A victim impact report in relation to Martin Convery said he suffered from a short term adjustment disorder following the assault but has not had to receive any further treatment.
The judge said Mongan had used "wanton violence to attack a vulnerable family in their isolated rural home".
He said there were significant injuries sustained by both Philip Convery and by his grandmother who suffered multiple bruises to the lower half of her body and to one of her arms.
"This was an incident that came out of the blue for the Convery family members on the summer evening in question", he said.
"It was a cowardly act carried out in a thuggish way and no mercy was shown to Mrs Convery and her grandson in particular", he added.
The judge said because he believed Mongan still presented a significant risk of committing further offences, he would be subject to additional conditions after his prison release.