'Questions to answer' over teenage abuse case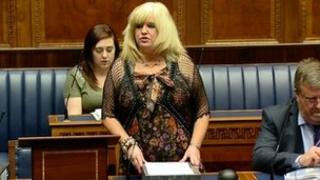 The chair of the Stormont Health Committee has said an inquiry into child exploitation in Northern Ireland should have stronger powers.
Sinn Féin MLA Maeve McLaughlin was speaking after a County Londonderry man was jailed for abusing a homeless teenage girl over three years.
The judge said she had suffered "depraved and humiliating" physical and sexual abuse.
Ms McLaughlin said the authorities had questions to answer.
She is to meet Health Minister Edwin Poots to discuss the case.
Judge Philip Babington told Londonderry Crown Court on Wednesday that after the girl moved from a children's home to secure accommodation "nobody bothered with her" apart from the man who abused her.
The abuser, who is 44, cannot be named for legal reasons. He was jailed for 12 years.
The judge said he had treated the teenager as his own "personal plaything".
Judge Babington said the victim had been the subject of care proceedings and was resident in a children's home prior to the abuse.
"She was moved to secure accommodation from the children's home and it seems then, that nobody bothered with her apart from the defendant," he said.
He told the court she was "practically forced to live with the defendant".
Ms McLaughlin said what had happened showed the vulnerability of young people.
"We need to reflect on the young girl and ensure that she and those around her get all support necessary," she said.
"How did she end up living with the perpetrator?"
Ms McLaughlin said those involved in the case had questions to answer.
Helena Bracken from the Nexus Institute that offers support to survivors of sexual abuse, said this was one of the worst cases she had come across.
"This is a brutal physical and sexual case and to think that something like this has gone on in our community leaves me ashamed," she said.