Man jailed for sexually and physically abusing teenage girl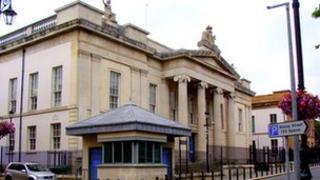 A 44-year-old man who subjected a homeless teenage girl to what a judge described as a depraved and humiliating period of sexual and physical abuse has been jailed for 12 years.
The judge said the accused had treated the teenager as his own personal plaything.
The abuse started when she was 15 in April 2006 and continued until December 2009.
The judge also imposed a series of prohibitions on the man.
Judge Philip Babington said he was doing so in order to protect the public and in particular females from serious sexual harm by the defendant.
The man, who cannot be named because of the nature of his offences, will be on the sex offenders register for the rest of his life and when released from jail he will be on an extended licence.
Londonderry Crown Court heard that during the three-and-half-year period he had subjected his victim to gratuitous violence of the very worst type.
She had previously been in a relationship with the defendant's son.
The judge said the victim had been the subject of care proceedings and was resident in a children's home prior to the abuse.
"She was moved to secure accommodation from the children's home and it seems then, that nobody bothered with her apart from the defendant," he said.
He told the court she was "practically forced to live with the defendant".
The judge said it was not until October 2009 that she was able to leave her abuser following an overdose from which she almost died.
He said the girl was subjected to violent physical and sexual abuse.
The judge said the defendant, who admitted a total of 19 charges, had been assessed as at a level of high risk of re-offending and as presenting a significant risk of serious harm.
He said the defendant had no victim empathy and described the case as shocking.