Doctor charged over assaulting police with smartphone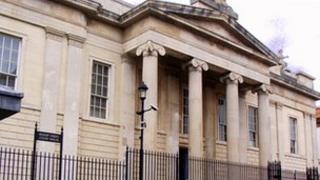 A doctor from Altnagelvin Hospital in Londonderry has been charged with assaulting two police officers with a smartphone, following a Christmas night out in December.
Dr Eireann Kerr, 30, from Marlborough Park South in Belfast, is charged with possessing an offensive weapon, resisting and disorderly behaviour.
One officer was a man and the other was a woman
Dr Kerr will appear again in court on 23 January.
Londonderry Magistrate's Court was told that the assaults allegedly happened at Strand Road police station.
'App for everything'
A police officer told the judge that he could connect the defendant to the five charges.
"Representations are being made in relation to this case," a defence solicitor said.
The solicitor requested an adjournment to enable those representations to continue.
Noting the charge related to an Apple iPhone, the judge said: "It appears we do have an app for everything".
The defendant was released on continuing police bail.
As part of her bail conditions she must not be intoxicated in a public place and she must submit to any preliminary breath test requested by the police.