UK City of Culture: Job fears as 2013 'had no impact' on Derry airport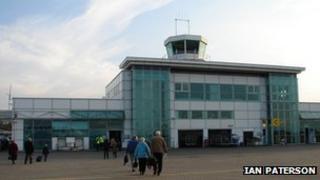 There are fears jobs could be lost at City of Derry Airport as it emerged the City of Culture celebrations made "no significant impact" on passenger numbers.
Airport director Damien Tierney told Derry City Council he expected passenger numbers for 2013 to be down on previous years.
Ratepayers in Londonderry currently pay more than £2m a year towards the running of the airport.
Official figures will be out in March.
Airport officials gave a review of the year at a Regional Services Committee meeting of Derry City Council on Tuesday.
While there was a peak around events like BBC Radio 1's Big Weekend and the fleadh, Mr Tierney said that in general, the expected influx for the year did not happen.
Passenger numbers
"Figures were somewhat disappointing," Mr Tierney said.
"We've had a difficult year. For the first time in a number of years we have lost a few rotations in the winter, which essentially means a drop in a number of Ryanair flights.
"The general economy is flat so customers don't want to fly.
"In the next year we are predicting a 10 to 15% reduction on passenger numbers.
"2014 will likely be problematic as I think we will lose a number of flights in the summer period."
He said the airport could continue to operate by ensuring their "cost base is low enough".
Job cuts
The airport, which is based in Eglinton outside the city, employs about 100 people.
"We can't rule out having to make job cuts down the line but there are a lot of costs to take into consideration," said Mr Tierney.
"Our employee base is our future so, obviously, our aim is not to lose any jobs."
DUP Councillor Joe Millar suggested that the council should look at the possibility of supporting a new route at the airport.
"The risk has to be taken," said Mr Millar.
SDLP councillor Gerry Diver said the airport was a critical piece of infrastructure which brought money into the economy, and it was money well spent.