Poppy comments by footballer 'led to hammer attack'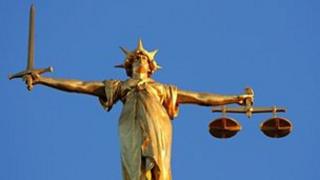 Comments by a Londonderry footballer on Twitter about the wearing of a poppy led to a sectarian hammer attack on a man, Londonderry Magistrates Court has been told.
Paul McGarrigle, 42, from Foyle Crescent in Newbuildings admitted a series of charges, including attempted grievous bodily harm with intent.
The incident happened on 22 December 2012.
He will be sentenced on 17 January.
The court was told that the injured party had moved into a new property with two friends and held a housewarming party.
Around 02:00 GMT a group of men arrived outside the house and used a hammer to gain entry.
They then made sectarian comments.
Kicks and punches
The injured party stood up and was punched to the ground by McGarrigle. When he tried to get up he was struck with a hammer on the head by McGarrigle.
The victim was then kicked and punched and had bottles thrown at him.
The court was told that not all of the assaults were carried out by McGarrigle.
The victim suffered a laceration to his head and bruising on his body.
At interview, McGarrigle told police that he had been there but denied having a hammer.
He said he did remember punching someone and then kicking him.
A defence barrister said his client had been involved in voluntary work for the past ten years.
He said that what had sparked the incident were comments made by a footballer from Derry on Twitter about the wearing of the Poppy, which had caused "consternation among the accused and his friends".
He said that McGarrigle went to challenge the injured party about these comments and it descended into violence.