Turner Prize exhibition: Protest over closure of gallery space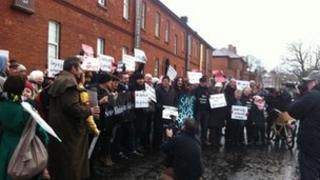 A protest has been staged at the gallery that hosted the Turner Prize exhibition in Derry.
About 200 people gathered outside the Ebrington Turner Prize gallery on Sunday.
The building is due to be turned into offices housing a digital hub but protestors want it to remain as an artistic space.
The exhibition, which was held outside England for the first time, closed on Sunday at 20:00 GMT.
Maoliosa Boyle, manager of the Void Art Gallery in the city said it would be "an absolutely huge mistake" if the venue's use was changed.
"People really need time to consider what the possibilities of the space now hold, the potential for the city, and really builders just cannot come in two weeks time, or whenever it's planned and start taking apart this building which is an exceptional space," she said.
'Viable space'
The Turner Prize exhibition was staged in the former Army barracks at Ebrington from October during Derry's year as UK City of Culture in 2013.
Four artists were in contention for the award which was won by installation artist Laure Prouvost.
She beat humorous artist David Shrigley, painter Lynette Yiadom-Boakye and performance artist Tino Sehgal to take the £25,000 prize.
The French artist, who lives and works in Britain, won for her piece Wantee, which takes the audience in search of her fictional grandfather.
Filmmaker Jonathan Cummins said the building had "proven itself as a viable space and it should remain so".
"Almost 1,000 people visited the gallery on a daily basis. We have to look at how it has gone so far, why can't it be sustainable?
"A huge some of money has been spent on this building but what for? For it to be ripped down?"
Established in 1984, the Turner Prize is awarded to a contemporary artist under 50, living, working or born in Britain, who is judged to have put on the best exhibition of the last 12 months.