Cable damage caused Derry blackout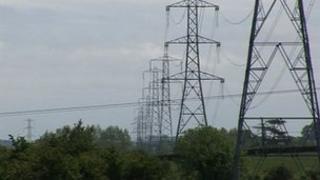 Over 3,000 homes and businesses in Londonderry were left without electricity for over an hour on Monday evening after an underground cable was damaged.
Power was restored to 3,300 homes and businesses in the Lenamore, Mount Vernon and Culmore areas by 19:50 GMT on Monday.
A contractor damaged a high voltage underground cable, according to NIE.
NIE has warned all contractors to follow strict safety procedures.
A contractor working on field drainage near Clonliffe Park, Culmore hit and damaged an electricity cable that was supplying the area.
"Contractors should exercise extreme caution when excavating," said Fiona McClintock, an NIE customer relations manager.
"Contractors must follow safety procedures when working in an area where there is a possibility electricity cables are present.
"They should always contact NIE in good time to request marked up drawings of the electricity network. In this case there were no marked up drawings on site.
"Any incident of damage to the electricity network can cause inconvenience to customers in surrounding areas and place contractors at risk from injury.
"Our advice is clear, always follow safe working practices when operating heavy machinery near the electricity network."