Council holds emergency meeting over secret dumping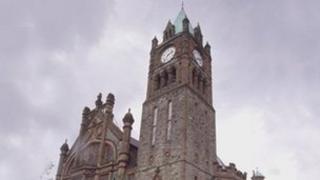 Derry City Council has held an emergency meeting following revelations that radioactive waste was secretly dumped in Culmore three decades ago.
Previously confidential government files, that were made public last week, revealed solid nuclear waste was buried in the area between 1977 and 1982.
Speaking ahead of the meeting, Sinn Féin councillor Tony Hassan said residents were "in shock".
"Residents want to know facts," he said.
"They also want to know what the health implications are today. There needs to be full disclosure.
"It's also vitally important that residents in Strathfoyle and those living along the River Foyle in our neighbouring county of Donegal in areas such as Muff, Moville and Greencastle get the full facts of what has gone on here."
Hospital waste
The NIO's interest in Sellafield coincided with a Yorkshire Television programme in November 1983 about a possible increase in the incidence of cancer in the communities surrounding the reprocessing plant.
In response to the impact of this programme in Northern Ireland, a memo in the file, dated 5 December 1982, revealed that solid radioactive waste had been buried at two local authority disposal sites during the period 1977-1982.
These were at Duncrue Street in north Belfast and at Culmore Point, outside Derry.
At Culmore Point, two consignments of hospital waste had been disposed of by controlled burial; the total activity amounted to 170 microcuries.
The file noted that a number of hospitals, fertiliser plants and both of Northern Ireland universities had been authorised to dispose of radioactive waste by controlled burials at these sites.