Coleraine student sit-in: Water and electricity cut off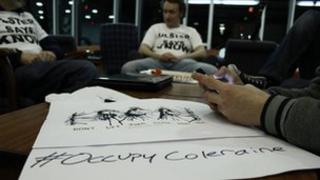 Students staging a sit-in at the University of Ulster in Coleraine, County Londonderry, have said that water and power have now been cut off.
The university has declined to comment on that claim.
The dispute is about planned changes to the senior common room. The university proposed using the area for meetings and to create new teaching facilities.
The protesters claim it is a sign of further "privatisation and marketisation" of universities.
'Private club'
Chloe Gault, who is one the protesters, told BBC Radio Ulster: "I had to leave to go to work and just as I was leaving they cut off the water, electricity and boarded up an emergency exit that leads to a lift.
"We are assuming that outside contractors and some university staff had been ordered to come in and do these actions. The university did not tell us that this was going to happen," she added.
"We do not need basic amenities, it is about standing up for what is right. We will need to rethink our tactics once food and water runs out, but we will stay here for as long as possible."
The protesters are calling for the minister for employment and learning, Stephen Farry, to intervene.
In a statement, the University of Ulster said: "We should make it clear that the senior common room on the Coleraine campus is not a facility which is open to all staff and students. It is a private club charging a fee for membership.
"As part of our multi-million-pound investment programme in the physical estate at the Coleraine campus, the area formerly occupied by the senior common room is being repurposed with the creation of high-quality meeting rooms and teaching facilities," said a university spokesperson.
"The senior management has kept the senior common room committee fully informed of the upgrade plans and the schedule for the commencement of construction work."