£2.75m Brandywell redevelopment: Council agrees to progress with work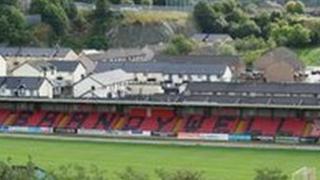 A £2.75m redevelopment of the Brandywell stadium in Londonderry has been approved by Derry City Council.
Brandywell is the home ground of Derry City Football Club.
The council agreed to move the greyhound track to a new location and to replace the grass pitch with a synthetic surface.
Derry Mayor Martin Reilly said the move was part of the council's plans to further regenerate and invest in this area of the city.
'Summer 2014'
Following a meeting on Tuesday, he said: "Derry City Council have already committed £2.75m to the redevelopment of the Brandywell as part of our long term legacy commitment to the area.
"This development plan will see better facilities for local sports clubs and community organizations and allow us to progress to the next stages of our plan."
The new-look stadium will also feature four changing rooms to enable year-round facilities for training.
Stephen Gillespie, the strategic director of the council, said: "As part of the regeneration works, essential health and safety maintenance works will be carried out at the stadium and ongoing discussions would continue with the greyhound racing operators and Derry City Football Club.
"It is anticipated that subject to planning permission works will commence in the summer of 2014."
'Priority'
This latest announcement comes just a few weeks after Culture Minister Carál Ní Chuilín confirmed funding of £2m for the Daisyfields and Showgrounds element of the Foyle Valley Gateway Masterplan.
Ms Ní Chuilín said: "It is essential that the City of Culture vision impacts meaningfully throughout the city and surrounding counties in coming years, and I am determined to make this happen."
It was agreed at the meeting that a comprehensive report on the project will be presented to members at a future meeting of Development Committee.
Derry has been the UK City of Culture for 2013.