Brandywell Stadium in Londonderry set for development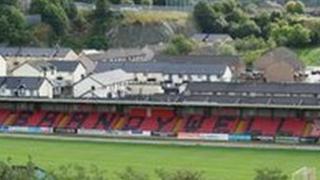 Derry City Council, which owns Brandywell Stadium, has agreed, in principle, to spend £2.7m on its redevelopment.
Brandywell is the home ground of Derry City Football Club.
There are plans for a new stand, changing rooms and a synthetic pitch. Under the proposals, the greyhound track would move to the showgrounds.
Elisha McCallion, Sinn Féin's chairwoman of the council's development committee, welcomed the news.
"As part of the proposal, the council intends to provide four changing rooms to facilitate both community and Derry City Football Club users of the new pitch," she said.
"Under the proposal council intends to undertake the most pressing health and safety requirements, including the demolition of the western and northern boundary walls in the short term."
The Mayor of Derry Martin Reilly said that members agreed, subject to ratification by full council, to replace the existing grass playing pitch with a synthetic 3G or 4G surface.
"I look forward to full council on Tuesday when this proposal can be ratified and we can advance to the next stage of this exciting project."