The Beach Boys will perform in Londonderry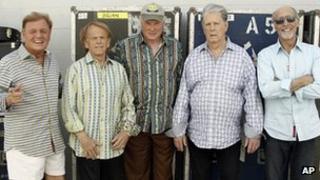 The American rock band, The Beach Boys, will be part of the city's Foyle International Maritime Festival in 2014, Derry City Council has announced.
The festival will welcome home the Clipper Round the World Yacht Race in June.
The Beach Boys will stop in Derry during their European 'Good Vibrations' tour for a "music celebration".
"This is fantastic news," said Mayor Martin Reilly.
"This announcement is just one of a number of significant announcements for the city as part of our legacy promise for our year as city of music in 2014.
"The Beach Boys are a huge act and have played a significant role in changing the musical landscape. It's fantastic that they have included the city as part of their tour and will no doubt have Ebrington rocking.
"We are particularly delighted that the support acts, which are to be announced at a later date, will involve local bands who will get a chance to perform."