'A year in a night' in the UK City of Culture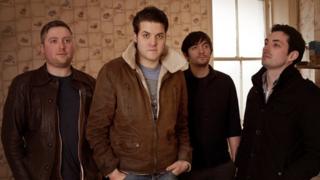 A BBC concert will celebrate Londonderry's UK City of Culture 2013 with performances from some of the city's best-known musical talents.
"A Year in a Night", will feature Soak, Best Boy Grip, Little Bear, The Clameens, pianist Ruth McGinley, tenor John Porter, the Music Promise Choir and Neil Cowley.
To celebrate the city's two traditions, Tattoo and Fleadh musicians will take part.
The concert on 12 December will also feature a special moment of reflection on the death of poet Seamus Heaney.
Musician Gino Lupari, actress Nuala Hayes, and writer and broadcaster Anita Robinson are also taking part.
BBC Radio Foyle and Radio Ulster will broadcast the concert live from St Columb's Hall in the city from 20:00 GMT on Thursday evening.
Presenters Marie-Louise Muir and Mark Patterson will host the event which will be directed by award-winning musical director, Frank Gallagher.
The director of BBC NI, Peter Johnston, said: "Providing a platform for emerging talent has been a theme for the BBC all year round and is an important part of our legacy.
"The 'A Year in a Night' event will include some great new performances alongside other special guests. It has been a pleasure and a privilege to have worked with all our partners, including the Culture Company, during the year to capture the energy, ambition and pride in this place."
The city hosts a number of large events throughout the year including the BBC's Sons and Daughters concert; BBC Radio 1's Big Weekend; Music City; the All-Ireland Fleadh and Lumière.
More than 220 musicians will take to the stage at The Venue in Derry for Shaun Davey's 'Relief of Derry Symphony' on Friday 20 December that will mark the end of 2013 celebrations.
The concert will feature Liam O'Flynn, Rita Connolly, Liam O'Maonlaí, Gerard McChrystal, Eoin ó Beaglaioch, the combined forces of the Colmcille Pipe Band and members of the Neilston Pipeband from Glasgow led by Pipe Major Iain MacDonald; Donal Doherty and the Codetta choir.
Arts Extra presenter Marie-Louise Muir said: "It has been an amazing experience to see so much talent both emerge from and visit my hometown throughout this year. I can't believe the year is nearly over, but what a wonderful closing concert from St Columb's Hall to bring the year to an end."
BBC Radio Foyle presenter Mark Patterson said: "What a year that was: prestigious festivals, headline gigs, world-class showcases, from Fleadh, Tattoo and One Big Weekend.
"However, it is this one, in the intimate and historic setting of old St Columb's Hall, that I most eagerly anticipate.
"Every guest on the programme will tell you why this city is in their cultural DNA. I simply cannot wait."
A Year in a Night is on BBC Radio Foyle and Radio Ulster on Thursday 12 December from 20:00 GMT on 92-95FM; DAB digital radio; digital TV and online at bbc.co.uk/radioulster