Brendan O'Donnell found not guilty of Derry sex assaults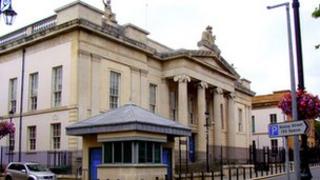 A retired senior officer at Derry City Council has been found not guilty of indecently assaulting two boys more than half a century ago.
Brendan O'Donnell, 77, from Ardglen was due to go on trial at Londonderry Crown Court on Tuesday, but after the jurors were sworn in, they were informed by a prosecution barrister that no evidence was being offered in the case.
Mr O'Donnell had denied the charges.
It was alleged they happened between September 1961 and December 1964.
The offences Mr O'Donnell had been charged were alleged to have occurred at the city baths in William Street and in a barn beside St Mary's boys club in the Creggan area.
After the prosecution barrister had spoken to the jury, Judge Alistair Devlin instructed the jury foreman to return verdicts of not guilty by direction in relation to the two charges.
Judge Devlin then told Mr O'Donnell he was free to go.