Evermore Renewable Energy power plant build to begin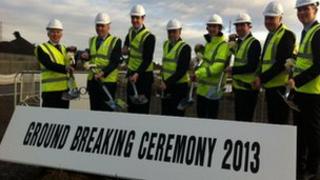 Work is due to begin on Monday at the site of a new multi-million pound power plant in Londonderry, creating 200 construction jobs.
Evermore Renewable Energy said it had secured more than £80m in funding for the wood-fuelled power plant that will be built at Londonderry Port and Harbour, Lisahally.
The plant is expected to power 25,000 homes and businesses.
The Evermore plant is expected to open during the summer of 2015.
Business Secretary Vince Cable welcomed the funding of the project.
The energy firm said it was the first of its kind on the island of Ireland and also the first project to be developed and funded by Evermore.
"This is the culmination of many years of hard work to develop and finance the largest green energy power station in Northern Ireland," said Stephen Devine, co-founder of Evermore.
"Today marks the start of the construction phase and, with that, the creation of over 200 much needed construction jobs in the North West."