Jim Gilchrist death: Killer jailed for probation breach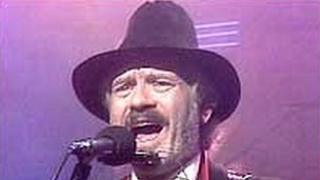 A man who was jailed for the manslaughter of Londonderry musician Jim Gilchrist in 2005 has been sent back to prison for 18 months for breaching probation conditions.
Daniel Young, 26, was sentenced in June 2008 for ten years and two years probation for the manslaughter of Jim Gilchrist in September 2005.
Young was released on 7 July 2012.
A prosecution barrister said that since then Young had been convicted of several offences.
The barrister said that Young is currently awaiting trial on a charge of bringing drugs into Magilligan Prison.
He said that Young had failed to live at an address agreed with the probation service and had failed to engage in his probation.
The judge said that the probation service did not make applications to "breach someone like this lightly".
He said that Young had been "extremely fortunate that a plea to manslaughter had been accepted especially in a case where Mr Gilchrist had been beaten unconscious and then thrown into the River Foyle".
"You would think he would keep his nose completely clean," said the judge.
Evidence was also heard from a senior probation officer who said she was "very pessimistic" that Young would adhere to any conditions imposed by the court.
The judge said that it was clear that Young "hasn't learned anything".
He added that he was revoking the probation order because Young had failed to adhere to it.