Philippa Reynolds: Two plead guilty to death crash charges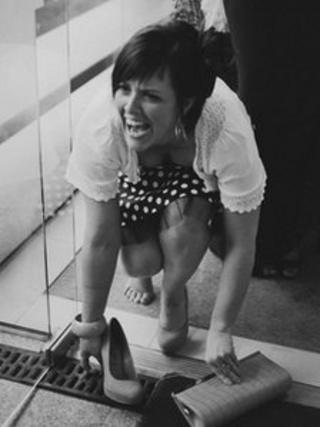 Two men have pleaded guilty to charges linked to the death of a police officer in a car crash in Londonderry.
Constable Philippa Reynolds, 27, died when a stolen car crashed into a police car in which she was a passenger.
Shane Christopher Frane, 26, pleaded guilty to manslaughter, guilty to causing death while driving without insurance or a licence, and driving while unfit due to drink or drugs.
Conor Clarence, 24. pleaded guilty to four charges connected to the incident.
The crash happened in the Waterside area on 9 February.
Frane, whose address was given as care of Maghaberry Prison, further pleaded guilty to failing to remain at the scene of the crash and to failing to report the crash to the police.
He pleaded not guilty to a charge of aggravated vehicle taking, causing the death of Constable Reynolds.
Clarence, from the Simon Community at Bonds Hill, pleaded guilty to stealing a Toyota Land Cruiser, entering as a trespasser a house on Fountain Hill and stealing car keys, causing criminal damage to a Citroen Saxo car and allowing himself to be driven in the stolen Toyota that was involved in the fatal crash.
A prosecution barrister told the judge that he "did not anticipate a trial in relation to Frane's not guilty plea".
The judge said he was sure that all of those involved, particularly Constable Reynolds' parents and family, were "pleased to hear that it was not thought a trial would be necessary".
The case was adjourned until 17 January to allow for the preparation of psychiatric and pre-sentence reports.
Both defendants were remanded in continuing custody until that date.