Londonderry Lumiere light show a 'mesmerising experience'
By Dean McLaughlin
BBC News NI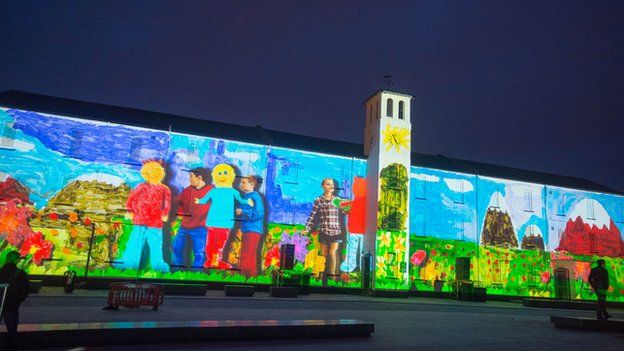 Derry has been transformed into a spectacle of light as thousands arrive for Lumiere, a light show spectacular.
With 17 light sculptures and other installations, the festival is said to be one of the biggest in the UK City of Culture 2013 calendar.
The city has already welcomed thousands of visitors this year, hosting events like The Turner Prize and Fleadh Cheoil na hÉireann.
In 2011, the light show attracted almost 180,000 visitors to Durham.
The buildings and the city's Peace Bridge will be lit up between 17:30 GMT and 22:00 GMT until 1 December.
Among the newly commissioned works is Teenage Kicks, by artist Deepa Mann-Kler.
The work was inspired by the pop song of the same name, which was the greatest hit of Derry band, The Undertones.
The 30m-long neon sign reading "A teenage dream's so hard to beat" sits on top of the city's BT building and is visible across the city.
The Edwardian department store building, Austins, has been wrapped in an audio-visual projection called Voyage.
The Austins store displays a colourful tale of time travel, inspired by the stories of the French novelist Jules Verne.
A 23m-long neon feature has been placed on top of the Rosemount shirt factory.
Human-like illuminated sculptures have been placed around the Peace Bridge.
Local school children have their names and art splashed across the Clock Tower building at the former Army barracks in Ebrington Square.
Eight schools worked with Portuguese artist Ocubo to make Twice Upon A Time, the animation that features an imaginary world.
The public can hear voices broadcast from a converted ambulance and see words projected onto buildings as the vehicle moves around the city.
For the four nights of the festival, a fire garden will be held at St Columb's Park.
A fire garden will grow into life and gradually die away before the end of the festival.
Lumiere has been organised by Artichoke, a London-based creative company that specialises in the production of large-scale public art events.
Helen Marriage, Artichoke's director, said: "Derry-Londonderry is a very special city with its own landscape and characteristics, and because of that we decided to do something very different here.
"There will be 17 artworks on show, several of which are completely new installations that have been commissioned from local and international artists especially for the city.
"We've been working with local communities here for nearly two years now, and hundreds of residents have had a part to play in the making of Lumiere," she said.
"It's going to be a mesmerising experience for everyone."